 Maestro Pinchas Zukerman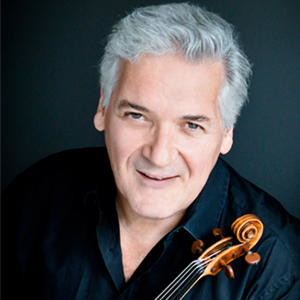 With a celebrated career encompassing five decades, Pinchas Zukerman reigns as one of today's most sought after and versatile musicians - violin and viola soloist, conductor, and chamber musician.  He is renowned as a virtuoso, admired for the expressive lyricism of his playing, singular beauty of tone, and impeccable musicianship, which can be heard throughout his discography of over 100 albums.  A devoted teacher and champion of young musicians, he has served as chair of the Pinchas Zukerman Performance Program at the Manhattan School of Music for twenty-five years. As a mentor, he has inspired generations of young musicians who have achieved prominence in performing, teaching, and leading roles with music festivals around the globe.  He singularly pioneered the use of distance-learning technology with the first technological installment at the Manhattan School and has established an advanced training program for gifted young artists as part of the National Arts Centre in Ottawa.
During the 2018-2019 season, Pinchas Zukerman's marks his tenth season as Principal Guest Conductor of the Royal Philharmonic Orchestra in London and his fourth as Artist-in-Association with the Adelaide Symphony Orchestra in Australia.  He leads the RPO on a tour of the United Kingdom and Ireland, conducting works by Mozart and Vaughan Williams and performing as soloist in Beethoven's Violin Concerto.  Zukerman joins the Rotterdam Philharmonic Orchestra in performances of Bruch's Violin Concerto in G Minor, on tour in Germany, the Netherlands, and Switzerland.  He appears as soloist and conductor with the National Arts Centre Orchestra in Ottawa and the symphony orchestras of Toronto and Indianapolis.  Mr. Zukerman makes concerto appearances in North America with the Pittsburgh Symphony Orchestra, Colorado Symphony, Los Angeles Philharmonic, New World Symphony, and in Europe with the Gulbenkian Orchestra, Orquesta Nacional de España, NDR Radiophilharmonie, Salzburg Camerata, and Moscow State Symphony Orchestra.  Mr. Zukerman conducts the Deutsche Staatsphilharmonie Rheinland-Pfalz, and conducts and is soloist with the Royal Philharmonic Orchestra on a tour of South Korea. 
As a founding member of the Zukerman Trio, along with cellist Amanda Forsyth and pianist Angela Cheng, Pinchas Zukerman appears in Baltimore and New York's 92nd Street Y, tours Italy, including Bologna, Milan, and Naples, and gives performances in Germany, at Villa Musica in the Rhineland-Palatinate and in Mönchengladbach.  Zukerman and Forsyth join the Jerusalem Quartet in a program of Strauss, Schoenberg, and Tchaikovsky sextets in Chicago, Houston, Atlanta, Princeton, Berkeley, and Vancouver.  Mr. Zukerman also appears with Ms. Forsyth in performances of the Brahms Double Concerto with the Los Angeles Philharmonic, and joins violinist Viviane Hagner and the National Centre Arts Orchestra for performances of the Mozart Sinfonia Concertante.
As part of the 70th-birthday celebrations honoring Mr. Zukerman during the 2018-2019 season, the Manhattan School of Music marks the 25th anniversary of the Pinchas Zukerman Performance Program with a special tribute: a "25-70" concert of chamber and orchestral music performed by distinguished colleagues, former and present students.  Zukerman, who initiated the National Arts Centre Institute for Orchestral Studies in Ottawa, an apprentice program for string players, serves as artistic director of the Young Artist Program and returns each summer to teach and lead master classes.  He has taught prominent music educational programs in London, Israel, and China, among others, and was appointed as the first instrumentalist mentor in music of the prestigious Rolex Mentor and Protégé Arts Initiative.
Pinchas Zukerman has been featured in numerous television specials and national talk shows.  He has been a performer and presenter at both the Kennedy Center Honors and the Grammy Awards ceremony and appeared with the Chicago Symphony on the PBS special Mozart by the Masters.  In 2004, the CBC recorded a ten-segment series entitled "The Concerto According to Pinchas" which continues to be broadcast and re-broadcast around the world.  A frequent performer on Live from Lincoln Center, Mr. Zukerman has collaborated with the English filmmaker Christopher Nupen on several projects including the Here to Make Music series, a Brahms series, a Schubert series and a documentary on Nathan Milstein.  He appeared on CBC Television's nationwide broadcast celebrating the opening concerts of the National Arts Centre's 30th-anniversary season.  Crossing Bridges, a documentary by Niv Fichman, followed his tour to the Middle East with the NAC Orchestra, and was awarded the prestigious Gold World Medal at the 2001 New York Festival.  Mr. Zukerman's violin playing can be heard on the film soundtracks for Prince of Tides and Critical Care.
Born in Tel Aviv, Pinchas Zukerman came to the United States where he studied at the Juilliard School with Ivan Galamian as a recipient of the American-Israel Cultural Foundation scholarship.  An alumnus of the Young Concert Artists program, Mr. Zukerman has also received honorary doctorates from Brown University, Queen's University in Kingston, Ontario, and the University of Calgary.  He received the National Medal of Arts from President Ronald Reagan and is a recipient of the Isaac Stern Award for Artistic Excellence in Classical Music.  Pinchas Zukerman's extensive discography includes more than 100 titles, for which he gained two Grammy® awards and 21nominations.  His complete recordings for Deutsche Grammophon and Philips were released in July 2016 in a 22-disc set comprising Baroque, Classical, and Romantic concertos and chamber music.  Recent albums include Baroque Treasury on the Analekta label with the National Arts Centre Orchestra, cellist Amanda Forsyth, and oboist Charles Hamann in works by Handel, Bach, Vivaldi, Telemann and Tartini; Brahms's Symphony No. 4 and Double Concerto with the National Arts Centre Orchestra and Ms. Forsyth, recorded live at Ottawa's Southam Hall; and a critically acclaimed album of works by Elgar and Vaughan Williams with the Royal Philharmonic Orchestra.     
Mr. David Grossman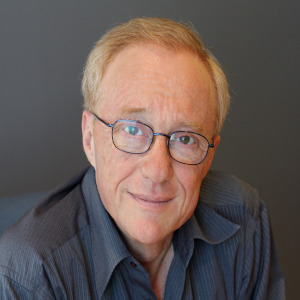 David Grossman (born in Jerusalem, 1954) is a major figure in contemporary Hebrew literature, writing for both adult and young readers. His work has been translated into more than thirty languages, and has been presented with numerous awards, including Chevalier de l'Ordre des Artes et des Lettres, Prix Medicis, the Peace Prize of the German Booksellers Association, and an honorable mention from IBBY (2012). He is the author of ten internationally acclaimed novels, three powerful works of non-fiction and a short story collection, as well as many children's books, a children's opera and a play.
In his writing for young adults Grossman has dealt with less common topics for children such as the relationship between a boy and a lonely old man & the spirited lives of individuals in nursing homes (Duel); growing up without a mother & dark family secrets (The Zigzag Kid); drug addiction, and runaway teens (Someone to Run With).
Grossman's picture books in particular are considered canonical in Israeli children's literature, and are beloved by several generations already. His characters are household favorites, and his stories mix fantasy with daily life, such as animals in a painting coming to life (Itamar Walks on Walls), or a meeting between a boy and a rabbit turning into an understanding of how the Other is really a friend (Itamar Meets A Rabbit). Warm family dynamics are also a hallmark of his stories (Uri's Special Language, The Sun Princess, Don't Worry Ruti).
In his literary and journalistic writing, Grossman does not shy away from complicated and controversial issues. He fights for the human rights of people of all ages, genders, and ethnicities. He is active in social justice causes and in peace initiatives between Arabs and Jews.
"When I write, I try to enlarge my being and my emotional dictionary, not to surrender to apathy or paralysis; to show nuances. Every human story is so complicated that no one side is 100% right or wrong; each has its justice and its suffering. When I write stories I reclaim things that have been confiscated and the right to be a human being in a situation that tries to obliterate my human qualities."--David Grossman
Prof. Betty Olivero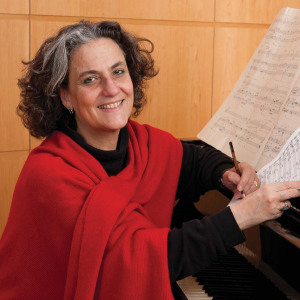 Betty Olivero's compositions have been performed by leading orchestras and chamber groups such as the Chicago Symphony, the New York Philharmonic, the Israel Philharmonic, the BBC Symphony, the London Sonfonietta, the Amsterdam Sinfonietta, the Juilliard Ensemble and the Arditti Quartet, and at many major European, North American and Asian festivals.
Born in Israel in 1954, Olivero studied with Itzhak Sadai and Leon Shidlowsky in Israel, with Jacob Druckman and Bernard Rands at Yale University and worked with Luciano Berio in Italy. For her achievements, Olivero was awarded a Leonard Bernstein Scholarship (USA 1982), the Fromm Award (USA, 1986), the Prime Minister's Prize (Israel, 2001 and 2009), the Koussevitzky Award (USA 2000), the Rosenblum Award (Israel, 2003), the Landau Award for performing arts (Israel, 2004), the ACUM prize for life achievement (Israel, 2004 ) the ACUM prize for the Best Classical Concert Piece of the year, (Israel 2010) the Israel minister of culture's prize (2014) and the E.M.E.T prize (2015) Olivero is a full professor of composition at Bar-Ilan University.
She regularly lectures and gives master classes in prestigious and major universities and schools in the USA such as Yale, Harvard, UCLA , Boston, Euston, Bard College, Juiliard, Mannes and others, and in Europe.
Olivero's works are published by Ricordi Music in Milano, and IMI in Israel. Her works were recorded by ECM, Angel, Koch International, Ricordi, Pläne, IMI, Beit Hatefutsoth, and Folkways records companies. Olivero was composer-in-residence for the Jerusalem Symphony Orchestra and was on comities for the ministry of education. Olivero is one of the founding member of the "Research Study Center- Luciano Berio" in Florence, Italy, along with Pierre Boulez, Maurizio Pollini and others.